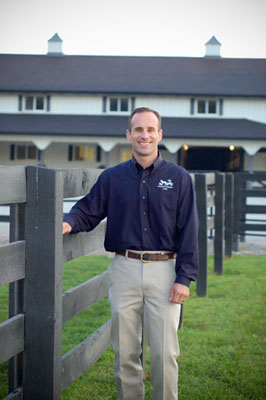 Scott Thompson, DVM
Equine Veterinarian
Dr. Scott Thompson earned his Doctorate of Veterinary Medicine from Purdue University in 2000. During his time at Purdue, he received the Pharmacia & Upjohn Proficiency Award in Surgery.  His interest in equine veterinary medicine stems from experiences gained while competing on a national horse show level, and in 1984 was the National Appaloosa Youth Show Champion Barrel Racer. His opportunities volunteering at veterinary practices from an early age set the stage for a future in veterinary medicine. Practice interests include all aspects of equine practice, especially his focus on equine Dentistry.  In 2010, the Indiana Farrier Association awarded him with the Clyde Stringer Award for his dedication to the advancement of Farriery in the State of Indiana.  Dr. Thompson is a member of the American Association of Equine Practitioners (AAEP) and the Indiana Association of Equine Practitioners (IAEP), and served as a past President of the IAEP.  Client education is a high priority to Dr. Thompson.  He regularly hosts, and allows other industry professionals to host, educational meetings at the facilities of JVC.  Relationships built with clients provide him with great satisfaction. Dr. Thompson supports the local community through his involvement in many organizations including educating students at local public and private schools, Brownie Troops, Horse & Pony Club, 4-H, and local therapeutic riding centers.  He is a board member of the Hamilton County Board of Health.  At home, Dr. Thompson enjoys time spent with his wife, Leslie, and three daughters, Norah, Polly and Ingrid. His family enjoys attending church, water sports, archery and spending time outdoors.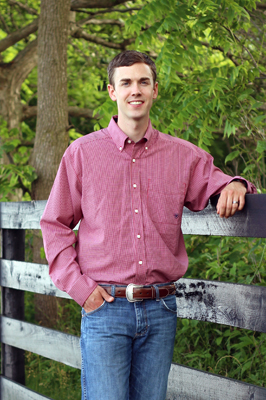 Jake Jensen, DVM, cVMA, cVSMT
Equine Veterinarian
Dr. Jake Jensen grew up in Northwest Indiana and developed an interest in veterinary medicine at a very young age. He attended Purdue University for both his undergraduate and professional studies, earning a B. S. in Biology in 2010 and a Doctorate in Veterinary Medicine in 2014. During his time at Purdue, Dr. Jensen acquired diverse veterinary skills in both equine and small animal studies, competed on the Purdue Horse Judging Team and Triathlon Club, volunteered at a working draft horse farm, and traveled to Mongolia on a veterinary mission trip. Following graduation, Dr. Jensen completed a one year internship at Idaho Equine Hospital. During this internship, Dr. Jensen gained extensive experience in equine sports medicine, lameness, and surgery of western performance and sport horses. Dr. Jensen has also completed certifications in Veterinary Medical Acupuncture and Veterinary Spinal Manipulative Therapy, and is a member of the College of Animal Chiropractors. Dr. Jensen's primary interests include integrative sports medicine, regenerative therapies, and ultrasonography. Outside of work, Dr. Jensen enjoys spending time with his wife, Lindsay, his daughter Abigail, being outdoors, and being involved with his church.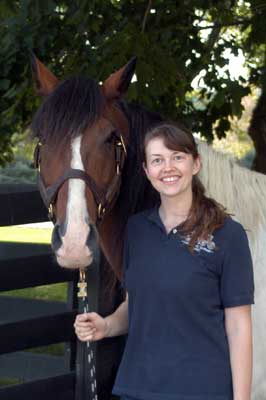 Lydia Mudd, DVM
Equine Veterinarian
Dr. Lydia Mudd grew up on a small farm in Southern Illinois. She has always had a love for animals. At 8 years old, after much pleading, she began taking horseback riding lessons. When she was 10, she used her life savings to buy her first pony, Pokie, whom she still owns today. She began competing in both English and Western disciplines, and worked at a local stable that had busy lesson and Therapeutic Riding programs. During high school, Dr. Lydia began working at a mixed animal veterinary clinic, and quickly fell in love with veterinary medicine. She graduated magna cum laude from Southern Illinois University, earning a B.S. in Animal Science with a minor in Chemistry. She then attended the University of Illinois, she merited membership to the Phi Zeta Veterinary Honor Society and graduated from the Illinois College of Veterinary Medicine in 2014. She completed a 1-year Equine Field Service internship at the Virginia-Maryland College of Veterinary Medicine. She was then invited to stay on within the department as a locum clinical instructor. Dr. Lydia enjoys all aspects of equine practice, but has a special interest in ophthalmology, podiatry, and reproduction. She is currently working toward achieving a farrier certification with the American Farrier's Association. Dr Mudd and her husband, Levi, both enjoy traveling, hiking, horseback riding, and cooking.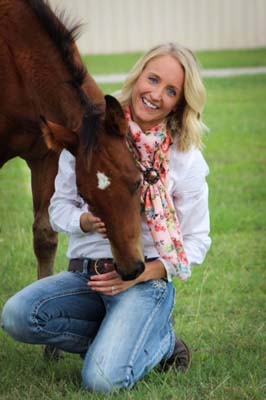 Katie Hornberger, DVM, DACT
Equine, Canine & Feline Reproduction
Dr Katie Hornberger grew up in Terre Haute, Indiana. Her strong love for animals started when she was a little girl. At 9 years old, her parents won a horse riding lesson.  Since that day, Katie fell hard for horses. She continued western riding lessons and soon knew she would be a veterinarian. She graduated with a Bachelor of Sciences in Animal Science from Purdue University in 2009 and continued to complete her Doctorate of Veterinary Medicine from Purdue University in 2013. Upon graduation, Dr. Katie did a 1 year equine and small animal internship near Cincinnati, Ohio. Following her internship, she pursued a 3 year Theriogenology residency at Oklahoma State University, where she addressed the reproductive needs of all species.
During her residency, Dr. Katie had the opportunity to acquire advanced reproductive skills including equine embryo transfer, oocyte aspiration, semen processing and freezing, high risk pregnancy management, and various other techniques. In addition, she had the opportunity to acquire skills in canine breeding management, trans-cervical artificial insemination, semen processing and freezing, medical pyometra management, c-section planning, and other various skills.
Dr. Katie enjoys all aspects of veterinary medicine but has a special interest in both equine and small animal reproduction and neonatal care. In her free time, Katie enjoys spending time with her husband, riding her mare, hiking with her dogs, and baking.
Amanda Burrows
Equine Veterinary Assistant

Amanda attended the University of Missouri-Columbia where she earned Bachelor's and Master's of Science degrees in Animal Science, as well as a Minor in College Teaching.  In addition to her studies, she focused much of her attention on assisting in the management of the MU Equine Teaching Facility.  Amanda was also a graduate instructor of Mizzou's undergraduate equine courses.   While pursuing her undergraduate education, she had the opportunity to complete an internship researching the management techniques of wild horses in western states. Amanda is a member of AAEVT (American Association of Equine Veterinary Technicians). She and her husband enjoy doing outdoor activities and spending time with family, which includes Friday the horse, Orbit the dog, and three cats – Squeak, Remy, and Rosalie.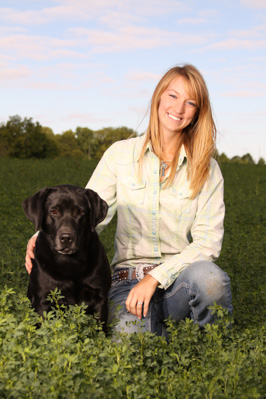 Savannah Dice, RVT
Equine Veterinary Technician
Savannah Dice was born and raised on a horse and cattle farm outside of Crawfordsville, Indiana. She received her Registered Veterinary Technician degree from Purdue University in 2016. Savannah is a long-time client of Janssen Veterinary Clinic and has volunteered numerous times over the years. She has had horses her entire life and has been barrel racing since she was 10 years old. Throughout high school, she and her father traveled many miles attending horse shows. She was a 10 year 4-H member and a 10 year Horse and Pony member, where she served as President of her club for 3 years. When Savannah is not at the clinic, you can easily find her in the barn at home working with her horses. She enjoys riding horses, singing, reading, being involved with her church, and spending time with family.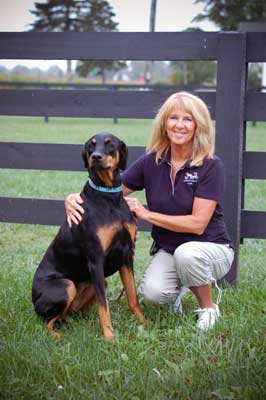 Vickie Benefiel
Receptionist & JVC Cheerleader
Vickie Benefiel has been with JVC throughout the last 20 years as an assistant and receptionist. She fell in love with horses in the fifth grade. Since then, Vickie has been a regular competitor in Barrel Racing. Vickie and her husband, Steve, spend their time outside of work watching their grandchildren, Jacob and Audrey, in sporting activities and 4-H. Weekends are spent at competitions and giving time back to local kids instructing barrel racing clinics. Vickie and Steve care for their four-legged children, a dog, Pebbles, and horses, Tex, Chick, Gabby, and Willie.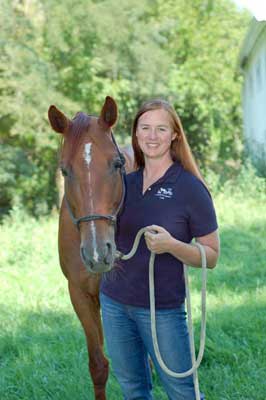 Dana Thompson
Equine Veterinary Assistant
Inventory & Technology Wrangler
Dana joined the JVC team in 2005. Horses have always been a part of her life from the yee-ha bareback through the cornfield days, then jumping her first fences as a Purdue student, through boarding, breeding, dressage and up to today. She came away from her time at Purdue with a B.S. in Mechanical Engineering with a minor in Business, and has experience in manufacturing and project management. She is a member of AAEVT (American Association of Equine Veterinary Technicians). Dana and husband David belong to horses Emma, Maia, Leo, Jack & Claude, and barn cat Georgia.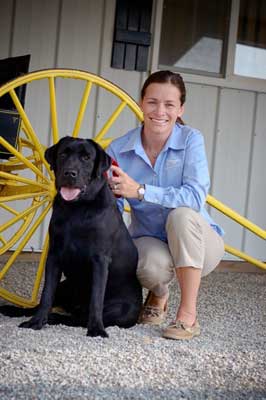 Leslie Thompson
Practice Manager
Leslie Thompson earned her Masters of Business Administration in 2004 from Butler University. She manages the financial and human resource aspects of JVC. Leslie began her career at a software development company in Indianapolis first in sales and marketing, and then as a Controller. After being introduced to Dr. Thompson by a friend and client of JVC (on a blind date), they were married and have three children, Norah, Polly and Ingrid, a pony, Penny, black Labrador, Rocky III, yellow Labrador, Hunter, and a cat, Lewis. Leslie's interests include serving on the mission field in the Dominican Republic, running, water-skiing, traveling and spending time with her family.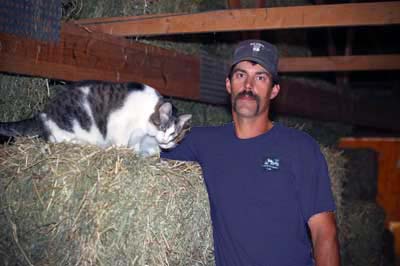 Jacob Scnarr
Fixer of All Things
Jacob Scnarr is a Hamilton County native with long-time connections to the Thompson family. Before joining Janssen Veterinary Clinic in 2012, he spent 17 years working for Dr. Scott Thompson's father doing underground utility/telecommunication construction. During that time he gained a variety of skills that make him a valued member our team. Jacob and his wife Jennifer currently reside in Noblesville with their son Joey. Jacob is also a fan of the great outdoors and enjoys hunting, fishing & camping as well as some time on the farm.